The 33-year-old Gaurav Raina based in Athens is over the moon after claiming his first WSOP gold bracelet.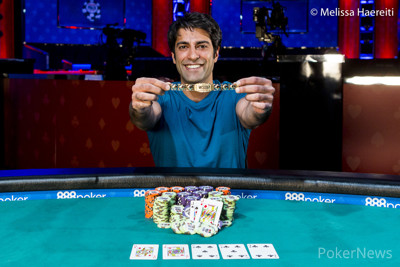 He was happy to show off the gold bracelet in his hand to the shutterbugs. The big thing about this win by Gaurav was that he was able to get the better of the strong 1086 entrants to win the first place prize money of $456,822. He competed in the 2017 WSOP $2,500 No-Limit Hold'em Event.
This win is the first major win of his career and before this event; Gaurav had just $9,749 as cash prize from the WSOP events. His total live tournament earnings stood at $200,000 before winning this major tournament event. The event also was a dragging one. It is scheduled to complete in three days. But, there were 30 players who survived day 3 and the game was extended to the 4th day. This shows the kind of competition that Gaurav had to face in the last couple of days of the event.

Gaurav entered day 3 of the event in the 11th chip position and was soon able to accumulate enough chips to gain many spots and had to enter into a final face off against James Calvo. Raina had 4,000,000 chips entering day 4 and Calvo had 9,600,000 chips in his kitty. Gaurav said that he had a sleepless night after the day 3 play and this was due to the chip disadvantage that he was going through.
Raina had a very good session at the start of day 4. Only after five hands, Raina scored a double up. He did not let go his new found advantage and tightened his grip on Calvo and the title. Calvo flopped on the final hand of the event and Gaurav was able to send Calvo to the second spot.